Plan Sponsors
We help build great organizations with competitive employee benefits
The best, most competitive workplaces are typically built around protecting their most important asset: their employees. For over 60 years, we've married our actuarial prowess with areas in organizations that help them do more — like take better care of their employees, save more money, and find strategies to grow. You decide the direction, we navigate the details to get you there.
Retirement
An organization's retirement plan is often the cornerstone of its benefits package. Through our clear and concise consulting model, we make sure the administration of your plan is easy. For your employees, we think saving for retirement should be simple. We aim to provide the tools employees need to manage their retirement savings easily– anytime, anywhere. All of our systems are built in-house, custom to the needs of our clients. Our technology and communication program has also earned us national recognition by the plan sponsor community.
Investment & Fiduciary Oversight
Unbiased advice is a powerful tool for organizations to make good choices. Conrad Siegel is a full fiduciary, fee-for service only, and independent of any institution to help you make good choices about how to invest. Simply put, we tell our clients what they need to know, why they need to know it, and what they need to do about it; providing an investment framework that helps them more easily fulfill their fiduciary responsibility. We do this all while focusing on better preparing your employees for retirement.
Healthcare
Providing competitive healthcare benefits at an affordable price is tough for any organization today. As the leading actuarial firm in the region, our renowned actuarial expertise provides a distinct edge in simplifying the complexities of healthcare, like navigating rate renewals and changing compliance laws, and bundling a la carte services. We make it our mission to stay on the pulse of emerging legislation as well as the day-to-day compliance needs of your plan, so you can focus on your business.
401(k)/Defined Contribution
Let us do the heavy lifting when it comes to the administration and compliance of your retirement plan. We take a straightforward approach to creating retirement plans with flexibility to fit your organization, no matter the size or complexity. You'll be supported by a team of dedicated experts from a consultant to our call center, all under one roof. This clarity carries through in direct and succinct employee education to make it easy to ensure your staff is on the path to a successful retirement.
Actuarial
Our actuarial capabilities have earned us a reputation that is second to none. We thrive on simplifying the details of your benefit plans. We're a partner throughout the process to help you understand things in plain English, without consultant jargon, and no hidden costs.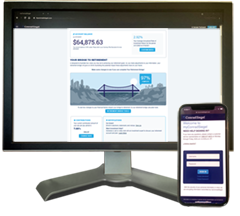 Website and mobile app
You can access our client website anytime to gain full access to your account. Our retirement bridge is designed to educate participants on how prepared they are for retirement.
Questions? Let us help you simplify the complex!
[wpforms id="7790″]
"We've had a long-standing relationship with Conrad Siegel and have been extremely satisfied with the personal level of service that we have received. They have been a great partner in maintaining our retirement program."

— East Brandywine Township